Priority Mail Chart - Retail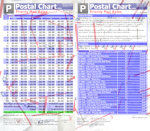 This Postal Rate Chart contains United States Postal Service (USPS) postage rates for the January 27, 2013 price increase. This chart includes Retail Priority Mail Rates, as well as information on the Flat Rate Envelopes and Flat Rate Boxes, Click-N-Ship, Carrier Pickup and SCAN Forms, and free USPS supplies such as boxes and labels. It also includes information on online discounts, as well as the new Small Flat Rate Box.
This standalone chart is not punched or bound. See the binding page for binding options.
Click the image for a high-resolution preview.